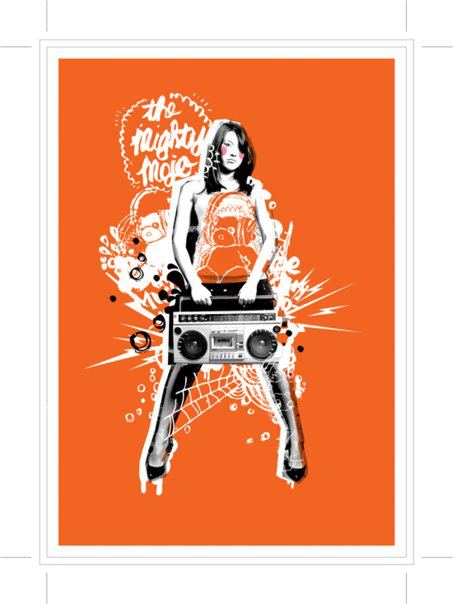 The next guest selector is Bido Lito scribe and Liverpool DJ the Mighty Mojo, a jock who was an institution in Bumper for a few years and now lays down beats in heebies on a Saturday and Santa Chupitos on a Sunday. I've chewed the fat with Mo about hip-hop at a ridiculously high amount of after-parties over the years so he was a natural choice to contribute… even if he took a bit more coaxing than I expected after he believed his choices would be too similar to the earlier ones made by Darren Williams.
Which was odd, because I didn't consider Darren's selections to subscribe that readily to the classic hip-hop canon (No PE, Dre, De la for example) and what Mo mustered equally only paid lip service to a few of them. Anyway; I'll let the man himself breathe his voice, and be sure to check out his weekly discourse on his blog The View from the Booth.
To distill all of hip hop down to 10 albums is very tricky for me, and not just because I'm an indecisive bastard. A lot of my favourite hip hop artists never quite nailed it over a full album, hence the likes of Nas, Redman, NWA, Roots Manuva and A Tribe called quest aren't represented. There are some obvious choices in here, but that's because the main criteria is which albums have given me the most joy down the years. I accept that I could wake up tomorrow with a very different list, but right now, these are the pinnacle.
10. Labcabincalifornia – The Pharcyde
I discovered this off the back of the best video of all time (c) for Drop, and realised there was so much more to be had. Most people I know prefer the cartoon energy of Bizarre Ride, but to produce the difficult post-fame 2nd album they had to freshen up their style a bit. Songs like Something that means Something and the peerless Runnin' are testament to how well they did it.
9. The Grey Album – Danger Mouse
Controversial! I know there are people who will never acknowledge the creativity necessary to produce an album like this, but as a man who has attempted to do something similar, I can tell you it takes a truly deft hand. The way he twists the Beatles' work into a hip hop template while retaining a lot of the original melodies is remarkable. I like that I can still tell which Beatles song was used, and there isn't one single track on which I prefer the original production. The Black Album is probably Jay's most consistent set, but he could be singing nursery rhymes and I'd still love this album.
8. Deltron 3030 – Deltron 3030
This was a straight toss up with Dr.Octagon, but due to consistency across the whole album Deltron takes it. Dan the Automater, Del tha Funkee Homosapien & Damon Albarn may have received more praise (and pounds) for their Gorillaz work, but this is their best collaboration. The murky atmospherics are the perfect background for Del's flow as he weaves his way through complicated themes of space and oppression. For some they may take the space opera bit too far, and they probably didn't need 9 skits, but when they set about making tunes, they don't fuck around.
7. Blow your Headphones – The Herbaliser
Some may argue against The Herbaliser's hip hop credentials, but even a cursory listen would knock those complaints into a cocked hat. The best example of female MCs outrhyming their male counterparts, even the idea fragments such as More Styles are fantastic. Had more plays than every album on this list bar the top three.
6. Quality Control – Jurassic 5
A lot of people prefer the J5 LP, but to me that's more of an EP, as there's really only 6 songs on there. Plus Concrete & Clay is much better than Concrete Schoolyard. Quality Control is when they were at the top of their game, taking 4 MCs and making them sound like 1. Like Mos Def, the Jazz influence is integral to what makes them great – Jurass Finish 1st, Monkey Bars and Swing Set is the kind of hip hop your parents can tolerate, but isn't Will Smith.
5. When Disaster Strikes – Busta Rhymes
I almost didn't put this in once I'd seen Darren's selection, but it would do a great disservice to a hitherto criminally underrated album. Despite greater chart success later on, this was when Busta was at his peak. The strength of Album tracks like Survival Hungry, There's not a Problem my Squad can't Fix and Rhymes Galore makes a mockery of the quality control of most modern LPs.
4. Doggystyle – Snoop Doggy Dogg
Over the course of my DJ career I have played every single track on this album, at least once. There is no other record I can say that for, of any genre. Probably in the collection of every single hip hop fan. Even those who detest what Snoop has become can't deny the laid back genius at play here.
3. Enter the Wu-Tang (36 chambers) – Wu-Tang Clan
There is nothing new to say about this album, except to tell you that it was the catalyst for my introduction to a whole new world of raw, abrasive, discordant hip hop. And for that I am eternally grateful. Oh yeah, and GZA's verse on Protect ya neck is probably my favourite in hip hop history.
2. Black on Both Sides – Mos Def
One of the best records of all time regardless of genre. Mos Def comes on like a cross between Marvin Gaye & Chuck D, intelligently dissecting the troubles of today's society in a way that makes you want to move. I even love the OTT thrash-out at the end of Rock'n'Roll, although I'd be interested to see if his stance on the Rolling Stones has changed since he worked with the Black Keys…..
1. Hello Nasty – Beastie Boys
I could have picked ill Communication and/or Check your head for this list, but for sheer blow-your-balls-off impact, on it's release and since, it has to be Hello Nasty. The depth and variety is pretty stunning, and I have played this album in full at many parties without ever needing to reach for the skip button. Super Disco Breaking, Just a Test, The Negotiation Limerick File, Remote Control, 3 Mcs & 1 DJ – so many straight up bangers, which contrast brilliantly with the poignancy of I Don't Know, or the Beasties Britpop of Song for the Man. This isn't a sentimental vote in honour of MCA – no other hip hop album has given me as much joy as this one.
Honourable mentions also go out to Outkast's 'Stankonia', A Tribe Called Quest's 'The Low end Theory', Kool Keith dropping weird science with 'Dr.Octagon', West coast polar opposites in Cypress HIll's 'Black Sunday' and Ugly Duckling's 'Taste the Secret' and finally, UK hip-hop selections from Braintax & Skinnyman with 'Panorama' and 'Council estate of Mind' respectively.