It's now a year (and a bit) since Darren first started writing blog posts for me. Having known him and his theories for a while I knew that I wasn't going to get an ordinary submission from him but I still couldn't of predicted the source material he would deliver each and every month. He's certainly not disappointed in terms of surprise!
There are times when I've disagreed with certain aspects of what he's said or even felt that I'm part of some of the people he's lambasting (sorry, I love Breaking Bad), but I've always felt what he is writing is interesting, and certainly worthy of being put out there. And more often than not completely different from everything else on my blog, so at least a nice diversion from me enthusing excitedly about fifteen year old hip-hop albums.
On this year anniversary he focuses once again on music, this time the band that define the city he is from and I live in, the Beatles. You'd normally get an anniversary post on a Liverpool based DJ about the Beatles enthusing about their apocalyptic albums, but that isn't Darren's style. Conspiracy theorists on the Fab Four aren't a new thing of course, but at least in Darren's hands their entertaining and enlightening, regardless of how much you believe in the substance.
Thanks for a year Darren!
Photo: Mona Best – Owner of The Casbah Coffee Club in West Derby, Liverpool, UK & main inspiration for the most productive section of The Beatles Discography [Rubber Soul to Let It Be Albums].
It's been exactly a year since my first article on GeneralJimmy.com.
Being from Liverpool, I decided to deal with something not commonly known by many people about the heritage of the city that may have been deliberately hidden by the Mass Media/Entertainment Industry:
Main Influence that 20th Century Dark Occult Magician – Aleister Crowley still has within The Entertainment Industry
It was my first ever article for a mass audience & what surprised me was the reaction of readers to this Photo of an actual Beatles Record Cover, I included: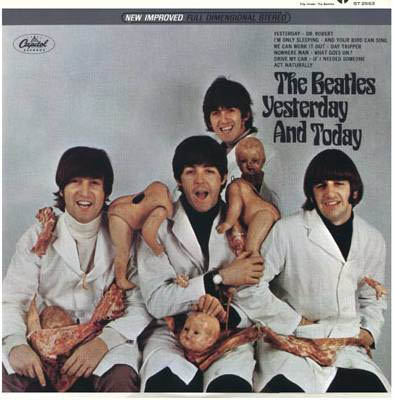 The Beatles are still making money 44 years AFTER they decided to call it quits, with the City of Liverpool, specifically it's City Centre, making a nice couple of quid as well due to plenty of fans making the pilgrimage. I live near the vicinity of Penny Lane & have met people from all over the world, some of whom become rather emotional as they have realise a life-time ambition.
Yet living in Liverpool at times you get the feeling that the people of city aren't aware of the huge influence that The Fab Four have given the world. This below video, being a prime example…
– –
You see Penny Lane has NEVER had a Fire Station, instead near-by Rose Lane does. Nobody knows why Brian Epstein, manager of The Beatles at the time, decided to change to title of the song, particularly as Rose Lane is possibly more catchy. Also, Rose Lane has always had that picturesque classic English Suburbia feel with lot's of independent shops, unlike the boring but still nice Penny Lane. What happened if Epstein for some reason didn't want THAT level of attention on Rose Lane even when it had all the landmarks referenced in the song along with being nicer?
The following excerpt is from the book 'Haunted Liverpool' by Liverpool Paranormal Writer – Tom Slemen…
″…Lennon sneaked out of his house, 251 Menlove Avenue, where he was living with Aunt Mimi, and walked just over a mile through the December snow to the bridge of destiny, arriving there just before midnight.
The Devil duly appeared as a tall shadowy figure with horns and uncanny-looking eyes . A bargain was struck.
Within three years, millions upon millions of people would idolize Lennon, and the rest of his band – The Beatles."
Guess, what… Rose Lane is the location of that 'bridge of destiny', above the railtracks that go through Mossley Hill Train Station.
Before you dismiss this possibility allow Russell Brand to explain how humanity could have always interacted with other realms even life-forms since the beginning…
Click for Quantum Physics meeting Comedy
Therefore, humanity very may well be co-existing with other more advanced life-forms on this planet who may view us like we view Pigeons due to the intelligence/scientific knowledge gap.
Things, really get bizzaro when a woman from Delhi [India] relocated to Liverpool [UK] due to marriage & by doing so changed the world forever. This individual is…
Mona Best.
The story goes that Mona arrived in Liverpool on Christmas Day 1945 to a City greatly destroyed by The Luftwaffe (Nazi Air Force), as a consequence of being a massive target during the second world war which had ended seven months previously. Mona's background involved being brought up in a household of good-living, due to her farther having rank in the British Military in colonialist India for what would be the final years of The British Empire. Having to deal with a European Winter must have come as something as a culture-shock, coupled with a considerable lowering in living standards.
After nine years living in Liverpool, Mona had become frustrated with family life living above a Pub (how British can you get) yet a dream came with an answer, this being…
Sell everything the family had of value including the Sliver & bet the entire cash on a horse that was 33/1 to win The Derby.
If the dream manifested into reality then Mona could finally buy outright a House she had been eyeing up for some time, located in the new suburb of West Derby far away from the outskirts of the City Centre.
So, a strange symmetry happened that a woman needed a Horse to win The Derby so she could take her Family to a better life – if Russell Brand's theory of existence might indeed be correct then the circumstances needing it's intervention were here.
The Horse in question was called 'Never Say Die' & rode by an 18 year old Jockey that would in time become seen as the greatest ever in the history of that sport – Lester Piggott.
As you would have guessed, Mona's dream did in-fact manifest into reality & it's likely that she would have put her money down with an illegal Scouse bookmaker – UK Law of that time insisted that people could only bet at the Racecourse of which that race was happening.
Another interesting fact was the house that Mona bought with her winnings foretold in a dream was formerly a branch/Social Club of The Conservative Party. An established British Political Party with a shameful history. Mona decided to transform what was certainly a nest of vipers into something totally opposite… a Family Home that also doubled up as an artistic venue inspired by her Indian Heritage. Mona also relaised that a new-breed of social class was emerging… The Teenager.
Not old enough to occupy the Pubs, Social Clubs & Discothèques but old enough to no longer gain enjoyment from kicking a Football in the streets with friends. This gap in the market was crying out to be filled within Liverpool, so Mona therefore decided to give the basement a look of a nightclub yet was really an early evening/daytime weekend venue for the Teenage youth of Liverpool with affluent backgrounds. Clubs need music & enter three wise men…
Paul, George & John.
The trio soon got word of this new exciting venue, owned by a cool foreign exotic woman, where they could perfect their craft. She was impressed enough to let them be the house band providing they help with the painting & decorating of The Casbah Coffee Club.
In, time Mona used her influence on George who would ask endless questions about India & that nation's spirituality (a theme that would emerge in The Beatles best work), to include her Son, Pete as Drummer.
Making three into what should have been a fabulous four.
Question: Why does Macca always take that pose, he looked stupid then & he still looks foolish now!
Things started off well enough but Pete soon started gaining more of the attractive looking female following, something which lead to jealousy especially from John, ironically a character trait which would become one of his most loved songs…
The original three also had a habit of starting trouble which could have manifested tragically when Stuart Sutcliffe joined the group for the legendary Hamburg sessions after attending the The Casbah. Legend has it that the cause of Sutcliffe's death was due to a punch to the head, possibly from Lennon, during a drunken row in Hamburg's famous red-light district.
After Sutcliffe's death they decided they needed an enforcer to join, in short heavy muscle, but also not that good looking to replace Pete Best. Liverpool at the time was alive with music, its port status ensured it was the first place in the UK to get the sounds of America (even before that of London), which meant a vast majority of Teenage Boys wanted to replicate that Rock n' Roll sound from across the ocean by being in a band.
They found their quarry in Ringo Starr, a drummer that was from the street-wise Toxteth area of Liverpool with a reputation for taking no s*%t. Later on, Starr would admit his tough fighting persona was due to insecurity as he missed a vast amount of education as a Child due to illness.
When Ringo replaced Best, the group had signed a contract with EMI Records leaving Best close to suicide as his dream was taken away from him at the worst possible moment. Yet, what kept him alive was the strength of his Mother as seen in this interview about the split…
– –
John Lennon wrote a letter some years later to Mona Best requesting as a tribute the use of her father's Military Medals for the Band. They planned to wear them on the psychedelic army uniforms for the publicity photographs of Sgt. Pepper's Lonely Hearts Club Band Album. Mona agreed…
As a Mentor to John, Paul & George it must have hurt Mona to listen to the constant praise of their work especially once those Indian String sections with Sitars became part of The Fab Fours work as without her they wouldn't have known about them.
Then as a Mother seeing a Son with talent betrayed at an early age by people considered close friends must have been even harder. Sure, millions if not billions of Pounds had been taken away yet feelings are worth more than money. Whilst doing research for this article, I encountered something that is truly extraordinary.
You've been warned…
– –
The odds on Mona's bet was 33/1… the number 33 is seen by many as having negative vibes, so to speak. The first Atomic Bomb known as 'the Gadget' was detonated at Trinity Site, New Mexico at the 33 Degree Latitude. Spanish explorers to The New World originally called this area La Jornada del Muerto (The Journey of the Dead) but now the site is marked by a small stone obelisk & we know The Freemasonic Brotherhood loves those obelisks.
Both Hiroshima and Nagasaki are both very close to that same 33 Degree Latitude.
Jesus Christ is said to have been executed when he was 33yrs old.
There happens to be 33 sections within the emblem of the United Nations.
& last but not least the highest self-admitted level of Freemasonry is the 33rd Degree.
Albert Einstein always claimed the understanding of numbers could deliver a deeper understanding to reality. Did Lennon make that deal made with 'The Devil' or more specific a Trans-Dimensional entity?
In the absence of an answer to that question, at least you now know about a Woman who's actions (or was it influenced?) changed our world forever.
Mona Best (3 January 1924 – 9 September 1988) aged 64yrs.
Some Bonus Material to consider…
Twitter: @DazAltTheory