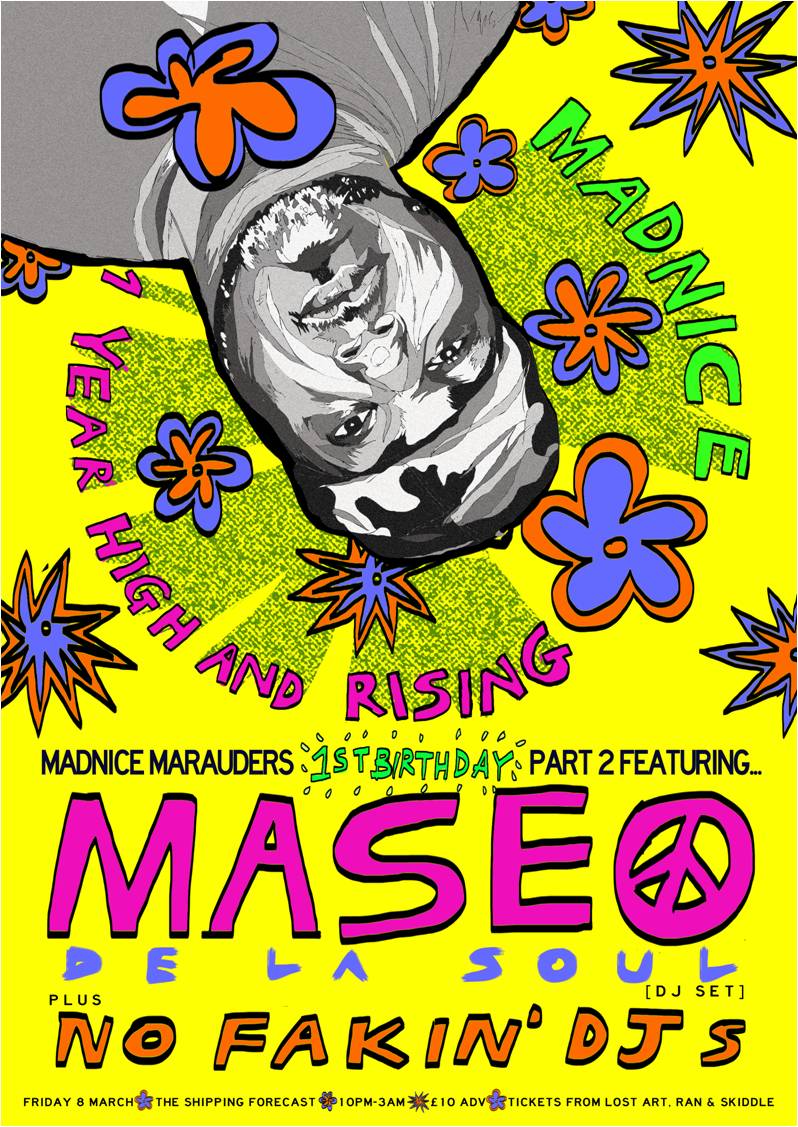 This week's instalment of Five for the Funk comes in the shape of a De la Soul themed ensemble, down in no part to Madnice Maruaders bringing their DJ Maseo back to the city for a silly showcase in the hold of the Shipping Forecast Even though they're not my favourite group of all time and '3 feet High…' is overrated (more on that below), you cannot front on De la's input on hip-hop and their DJ is someone who rocks hard.
Maseo's world renown as a jock centres on being able to do most things adeptly (technique, musical knowledge etc), and one thing extremely well; bring the party. Hip-hop may be littered with light fingered assassins, beat diggin maestros and DJs who have showcased the turntable as a weapon far capable of outweighing the sonic possibilities of mere musical instruments, but hip-hop began out of one carnal desire. Make. People. Move.
Maseo does just that. His No Fakin appearances in the Zanzibar are the stuff of legend, and I can remember him playing a Chibuku party at Nation, 2005 I think, and the reaction afterwards ranged from those doffing their cap at a master to those scoffing because he played Beyonce. This was the DJ from a group that came to prominence in part from obvious pop samples, rocking a crowd, and there was chin-strokers kicking off about a great R&B record. It seems that certain hip-hop fans have no grasp of irony.
Anyway, big ups again to Madnice for bringing Maseo to the unfathomably intimate surroundings of the Hold for what will be an swaggering block party affair. Here's my five favourite de la based party joints on this Friday in March. Party people, your dreams have now been fulfilled…
That paragraph's closing line is the opening gambit for this absolute riot of a record. The video is a classic, a genius play on hip-hop's bling culture which goes for out there weirdness rather than straight up parody. They transform the Wizard of Oz into the land of 'Oooh' complete with Brick City nightspot, a doff of the cap to the looting ringmaster at the centre of the track, Redman. There's cameos from fellow new jersey emcee Rah-Digga and comedian Dave Chappelle, and it's proof that this era of hip-hop could do big budget twists on what was aesthetically en vogue at the time without being formulaic – see also Hype Williams' piece de resistance.
On the actual track, it's one of the best meetings of minds of the era as hip-hop came out of the diametrically opposed factions of bling and backpack to realise they could work together. Redman steals the show, gifting a glorious party beat from Prince Paul even more crunk with some ridiculous hype man histrionics. Littered with humour drenched asides and pure charisma, he outshines Plugs One and Two with asides about fat chicks getting their fuck on tonight. Absolute party rocking gold.
Coming straight off the same AOI opus as 'Oooh', again De la are outshone by their sparring partner but when said guest is Chaka Khan doing one of her greatest vocal performances, you can't front. I realise that is one lofty statement but this record is nigh on perfect, a proper bumping beat with Chaka exuding class, heart and panache with every single syllable that echoes from her throat.
Pos and Trugoy come nice and correct on the lyrical tip as well, proving their class as hip-hop's elder statesman with an intelligent grasp of disagreement (aimed at those that slept on them during the Buhloone and Stakes is High eras of the band) rather than hip-hop's usual profanity littered ripostes.
Not strictly a de la joint as only Trugoy appears, but this track off Camp Lo's 'Uptown Saturday Night' is a gem, a real gem. The Eddie Bo loop announces the track before the three emcees share hook duties, and then each getting a verse.
Flipping the script from 'Ooh and 'All Good, this time it is Trugoy who steals the limelight, dumbing down effortlessly for an awesome combination of laid back braggadocio and off kilter silliness (cartoons, cereals and that all important 'big spoon' make an appearance) that affirms Dove as the Number one Tycoon. A record for real hip-hop heads to completely lose their shit too.
The de la debut is one of those mythical records that critics value as era defining, a stone cold classic and elevated to the upper echelons of hip-hop's critical canon. Although I can't argue on the influence of it, it's an assessment I don't particularly agree with. It's very good, but the skits skewer the feel of the album rather than add to it (and inflicting that particular thing on hip-hop isn't something to be celebrated), and I'd argue the follow up was much better.
That said however, there truly are some brilliant songs side by side with all the game show shitness, real pop masterclasses rather than just straight up hip-hop bangers. This is maybe the pick of the bunch, that Hall & Oates loop combines with the storytelling genius of De la (they are at times worthy of comparison to Slick Rick) warning you not to take drugs. Awesome.
'A Roller Skating Jam Named Saturdays' ft Q-Tip & Vinia Mojica
When De la dropped second album 'De la Soul is dead' with the dead daisy artwork, they were making a clear statement. You'd be stretching the truth somewhat though if you said that they made a complete musical departure from '3 Feet High'. Not only does 'Say No Go' proves they didn't shirk issues, they also lambasted the hippes charge on 'Me Myself and I' and not everything on 'De la…' is darkness. Case in point this monster.
This record was extremely '3 Feet High' in style, and to my ears is THE quintessential Native Tongues tune, either as an original or with this remix. The samples are great and plucked from the obvious rather than the obscure, Chicago's 'Saturday in the Park', the Larry Levan bolstered 'Got My Mind Made Up' by Instant Funk at the beginning and then the immortal riff from Frankie Valli's 'Grease' later on. Every emcee is brilliant, particularly Q-Tip with the boy meets girl playfulness. And Vinia delivers one of the greatest hooks ever…
'Now is the time, to act a fool tonight, forget about your worries and we gon be alright. It's Saturday, It's Saturday!'
Five minutes of relentless, grin inducing escapism. On the early hours of Saturday March 9th, you'll be able to catch the man himself dropping it.